Hindustan Times Chandigarh, 30 April 2017.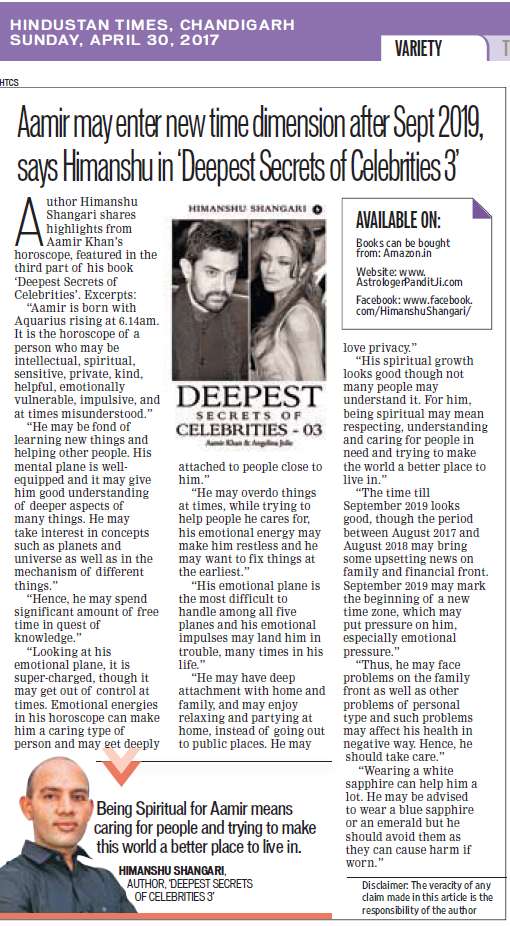 Hindustan Times Mumbai, 30 April 2017.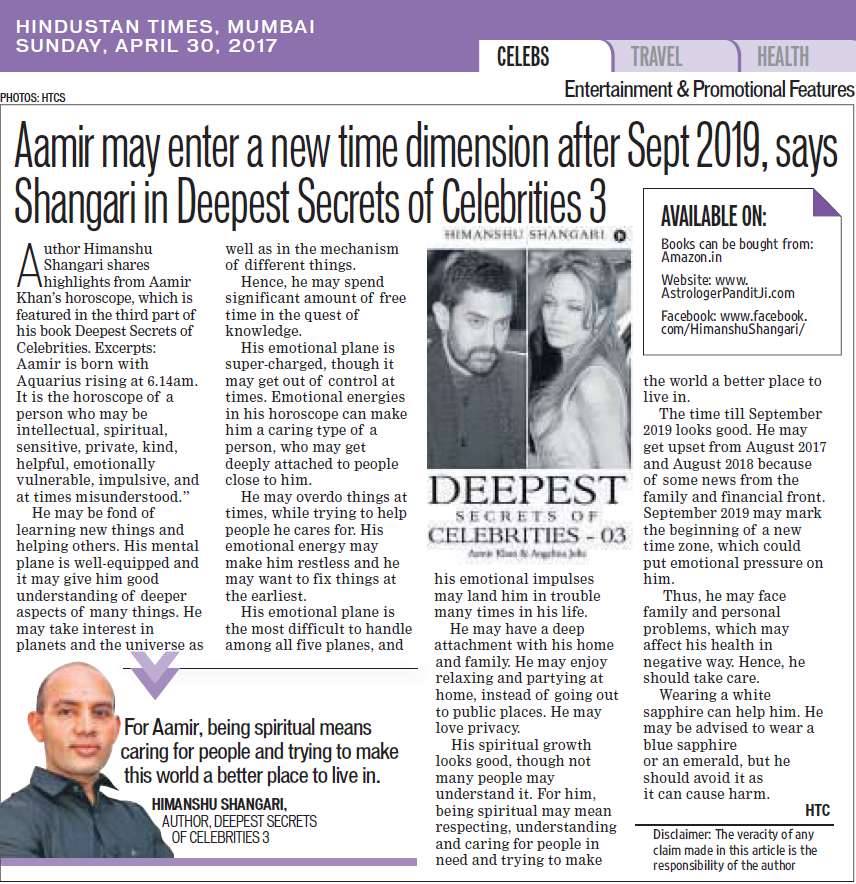 Himanshu Shangari News coverage for Deepest Secrets of Celebrities.
Aamir may enter new time dimension after September 2019, Himanshu in 'Deepest Secrets of Celebrities 03'  
Author Himanshu Shangari shared highlights from Aamir Khan's horoscope, featured in the third part of his book 'Deepest Secrets of Celebrities'.
'Aamir is born with Aquarius rising at 6:14 AM. It is the horoscope of a person who may be intellectual, spiritual, sensitive, private, kind, helpful, emotionally vulnerable, impulsive, and at times misunderstood.
'He may be fond of learning new things and helping other people out. His mental plane is well equipped and it may give him good understanding of deeper aspects of many things. He may take interest in concepts like planets and universe as well as in the mechanism of different things. Hence he may spend significant amount of free time in quest of knowledge'.
'Looking at his emotional plane, it is super charged though it may get out of control at times. Emotional energies in his horoscope can make him a caring type of person and he may get deeply attached to the people close to him. He may at times overdo things while trying to help the ones he cares for, as his emotional energy may make him restless and he may want to fix things at the earliest.'
'His emotional plane is the most difficult to handle among all five planes and his emotional impulses may land him into troubles, many times in his life. He may have deep attachment with home and family; and he may enjoy relaxing and partying at home, instead of going out to public places. He may love privacy and hence he may not like doing private things in public places'.
His spiritual growth also looks good though many people may not understand it. For him, being spiritual may mean respecting, understanding and caring for people in need and trying to make this world a better place to live.
The time till September 2019 looks good though the period between August 2017 and August 2018 may bring some upsets on family and financial fronts. September 2019 may mark the beginning of a new time zone which may put pressure on him, especially emotional pressure. Thus he may face problems on family front as well as other problems of personal type and such problems may affect his health in negative way. Hence he should take care'.
Wearing a White Sapphire can help him a lot. He may be advised to wear a Blue Sapphire or an Emerald but he should avoid them as they can cause harm if worn.