Hindustan Times Chandigarh, 09 April 2017.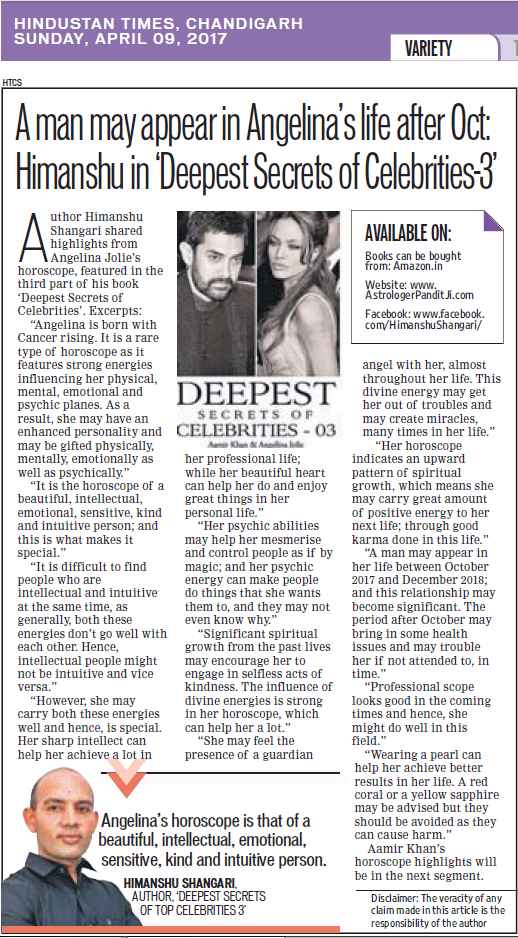 Hindustan Times Mumbai, 09 April 2017.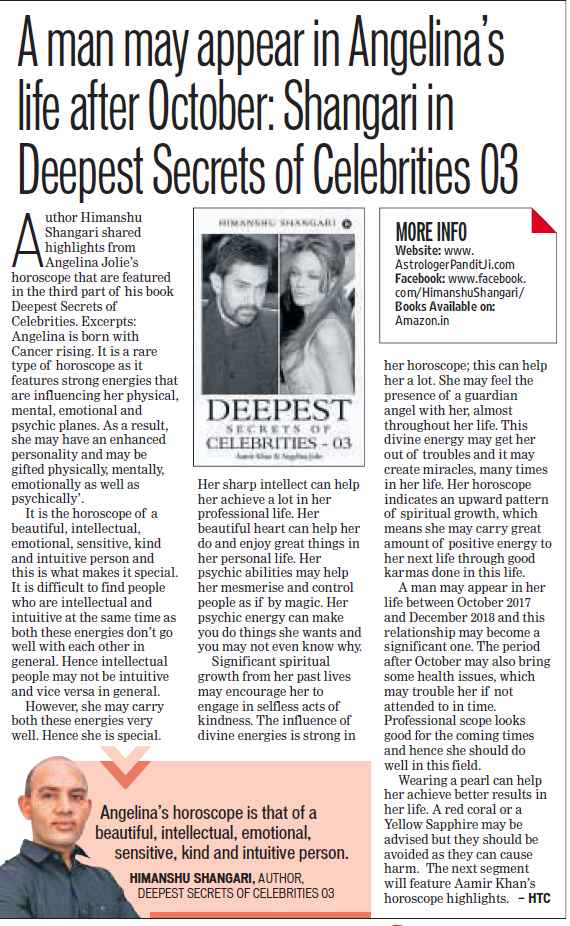 Himanshu Shangari News coverage for Deepest Secrets of Celebrities.
A man may appear in Angelina's life after October, Himanshu in 'Deepest Secrets of Celebrities 03'  
Author Himanshu Shangari shared highlights from Angelina Jolie's horoscope, featured in the third part of his book 'Deepest Secrets of Celebrities'.
'Angelina is born with Cancer rising. It is a rare type of horoscope as it features strong energies influencing her physical, mental, emotional and psychic planes. As a result, she may have an enhanced personality and she may be gifted physically, mentally, emotionally as well as psychically'.
'It is the horoscope of a beautiful, intellectual, emotional, sensitive, kind and intuitive person and this is what makes it special. It is difficult to find people who are intellectual and intuitive at the same time as both these energies don't go well with each other in general. Hence intellectual people may not be intuitive and vice versa in general'.
'However, she may carry both these energies very well and hence she is special. Her sharp intellect can help her achieve a lot in her professional life, her beautiful heart can help her do and enjoy great things in her personal life and her psychic abilities may help her mesmerize and control people as if by magic. Her psychic energy can make you do things she wants and you may not even know why'.
'Significant spiritual growth from past lives may encourage her to engage in selfless acts of kindness. The influence of divine energies is strong in her horoscope, which can help her a lot. She may feel the presence of a guardian angel with her, almost throughout her life. This divine energy may get her out of troubles and it may create miracles, many times in her life. Her horoscope indicates an upward pattern of spiritual growth, which means she may carry great amount of positive energy to her next life, through good karmas done in this life'.
'A man may appear in her life between October 2017 and December 2018 and this relationship may become a significant one. The period after October may also bring some health issues and they may trouble her if not attended to in time. Professional scope looks good for the coming times and hence she should do well in this field'.
'Wearing a Pearl can help her achieve better results in her life. A Red Coral or a Yellow Sapphire may be advised but they should be avoided as they can cause harm'.
Aamir Khan's Horoscope highlights in next segment.