Hindustan Times Chandigarh, 26 February 2017.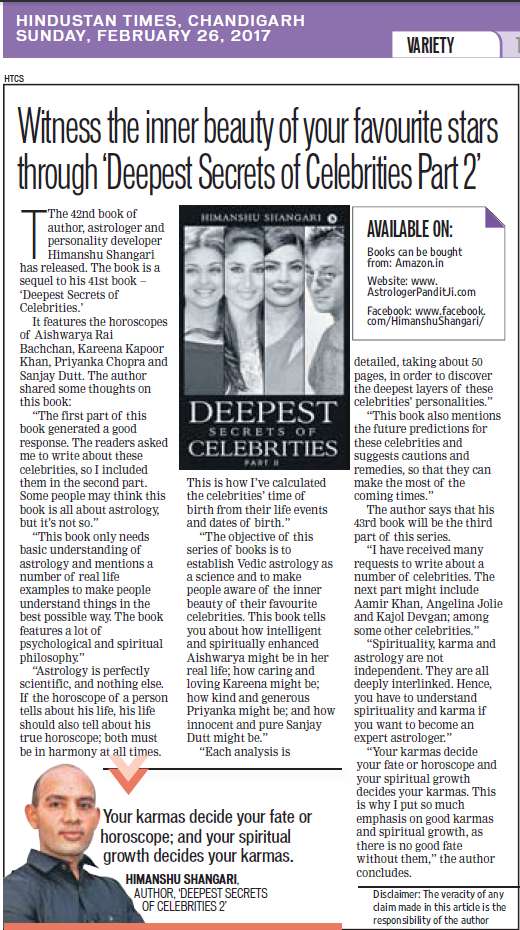 Hindustan Times Mumbai, 26 February 2017.

Himanshu Shangari News for launch of 42nd book, Deepest Secrets of Celebrities Part 2.
42nd book of Author, astrologer and personality developer Himanshu Shangari has released. This book is a sequel to his 41st book and it features horoscopes of Aishwarya Rai Bachchan, Kareena Kapoor Khan, Priyanka Chopra and Sanjay Dutt. The author shared some thoughts on this book.
'The first part of this book generated very good response. The readers asked me to write about these celebrities and so I included them in this part. Some people may think this book is all about astrology, it is not so'.
'This book only needs basic understanding of astrology and it mentions a number of real life examples to understand things in the best possible way. The book features a lot of psychological and spiritual philosophy'.
'Astrology is perfectly scientific and nothing else. If the horoscope of a person tells about his life, his life should also tell about his true horoscope as both must be in harmony at all times. This is how I've calculated their times of birth from their life events and dates of birth'.
'The objective of this series of books is to establish Vedic astrology as a science and to make people aware of the inner beauty of their favorite celebrities. This book tells you how intelligent and spiritually enhanced Aishwarya may be in her real life, how caring and loving Kareena may be, how kind and generous Priyanka may be and how innocent and pure Sanjay Dutt may be'.
'Each analysis is detailed, taking about 50 pages, in order to discover the deepest layers of their personalities. This book also mentions future predictions for these celebrities and it suggests cautions and remedies too, so that they may make the most of the coming times'.
The author says his 43rd book will be the third part of this series. 'I have already received many requests to write about a number of celebrities. The next part may include Aamir Khan, Angelina Jolie and Kajol Devgan; among some other celebrities', he adds.
'Spirituality, karma and astrology are not independent and they are deeply interlinked. Hence you have to understand spirituality and karma if you want to become an expert astrologer. Your karmas decide your fate or horoscope and your spiritual growth decides your karmas. This is why I put so much emphasis on good karmas and spiritual growth, as there is no good fate without them', the author concludes.